Vanda Issue 02
€

6.00
On sale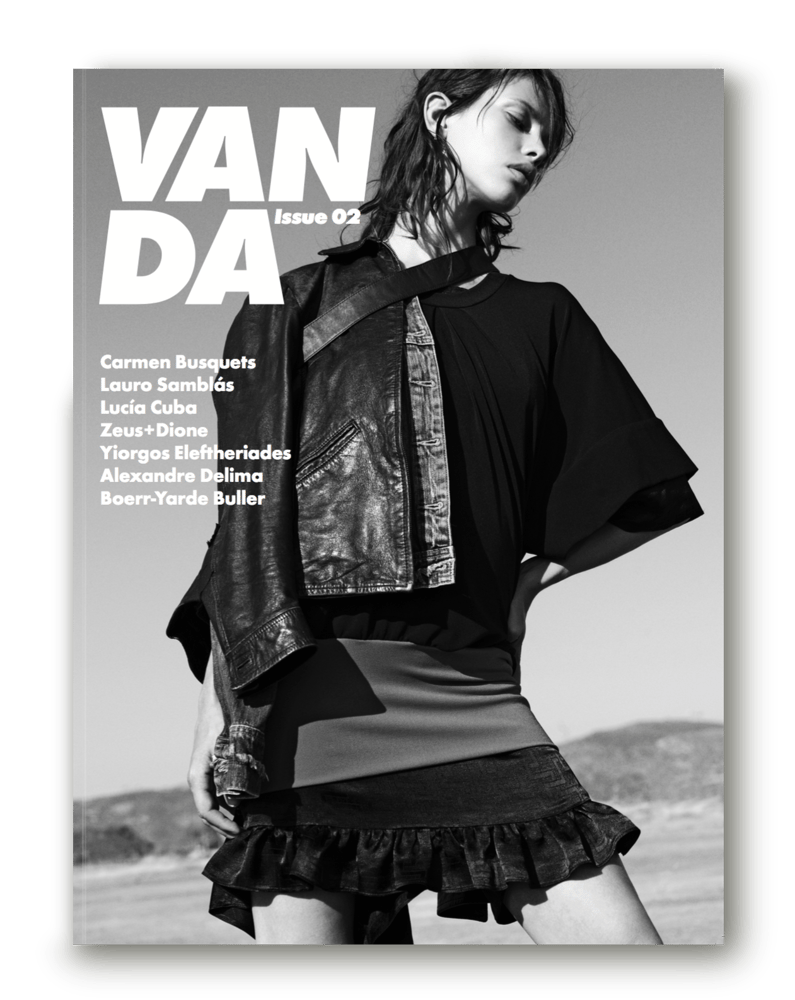 Free shipping for first 100 orders!
VANDA 02: Celebramos la multiculturalidad/ celebrating multiculturalism
VANDA is the new independent style magazine dedicated to the new wave of Hispanic and Latin American talent. It combines outstanding photography and various genres of journalism to showcase artists, designers and inspirational people hailing from all over the world. We aim also to provide an insight to what is happening in the local fashion scenes.
VANDA es la nueva publicación independiente dedicada a celebrar el talento hispano y latinoamericano. Es una publicación de moda y cultura para lectoras inteligentes, internacionales y con estilo propio. Presentamos la moda de manera no convencional y creativa, a través de la combinación de fotografía excepcional y diversos géneros de periodismo.
PORTADA/ COVER
Vivianne Tess photographed by Nikos Papadopoulos.
CONTENIDOS/CONTENTS
CARMEN BUSQUETS
Entrevista exclusiva a la empresaria y visionaria venezolana.
Desde su fe en el éxito de Net-A-Porter y la apuesta por ideas disruptivas, hasta su rebeldía más grande y lo que más extraña de su país natal, Carmen Busquets, lo cuenta todo. /Exclusive interview with the Venezuelan entrepreneur and visionary: from her faith in the success of Net-a-Porter and her support of disruptive ideas, to her biggest rebellion and what she misses the most about her native country, Carmen Busquets, tells all.
LAURO SAMBLÁS
Este artista famoso por sus collages con altas dosis de color se trae una sorpresa exclusiva para Vanda 02. /Famous for his explosively colourful collages, Lauro has an exclusive surprise in store for Vanda 02
LUCIA CUBA
En la intersección de la moda y las ciencias sociales, la peruana Lucia Cuba utiliza la vestimenta como agente de cambio social. /At the intersection of fashion and social sciences, Peruvian-born Lucia Cuba uses clothing as an agent for social change.
BOERR-YARDE BULLER
Desde Argentina conoce a la dupla Boerr-Yarde Buller que está cambiando la manera de percibir el diseño de moda Latinoamericano en todo el mundo. /From Argentina, designers Boerr-Yarde Buller are changing the way Latin American fashion design is perceived.
Zeus+Dione
En medio de una crisis económica en Grecia, Mareva Grabowski y Dimitra Kolotoura, se dispusieron a rescatar las artesanías de su país a través de su marca basada en Atenas, Zeus+Dione. /Amidst the Greek economic crisis, Mareva Grabowski and Dimitra Kolotoura set out to reignite the local craft of artisans all over the country through their Athens-based label, Zeus+Dione.